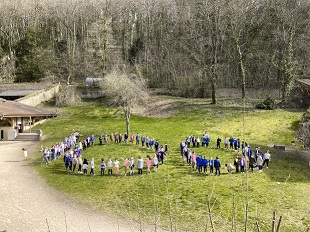 Today was the 100th day of school!
This is a ritual that consists in counting the days of class that have passed since the beginning of the school year.
On March 2nd, the CPs celebrated the 100th day of school. Students brought in their wonderful and varied projects that they had made over the school holidays. They were absolutely fabulous! To celebrate the day, students did a short workshop with each of the CP teachers – they made 100th Day of School bookmarks, folded 100 origami hearts, thought about thing they would like to have 100 of, and planted 100 seeds to watch them grow for 100 days. Thank you to all our wonderful families for your dedication to this project, the students were very proud!