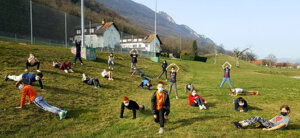 Ombrosa is an international bilingual school founded in 1971 in Lyon, that opened in 1993 a nursery and elementary school in the small town of Voglans, allowing us to locally welcome students from the Chambéry and Aix-Les-Bains areas in Savoie.
Since September 2007, a new site welcomes Lower Secondary School students in Le Bourget du Lac.
This structure implements an open educational approach based on individuals that builds on schooling and everyday life within the school, but also on international openness, and each individual's personality.
The school offers the acquisition and development of bilingualism in both nursery and elementary schools, and follows-up with plurilingualism in Lower Secondary School.
Students wishing to join Ombrosa Upper Secondary School, motivated by the educational approach and the possibility to prepare either the national or the International Baccalaureate we offer, must look for a housing solution within the agglomeration of Lyon. They are thus enrolled on the campus of Lyon Caluire.
See the Collège at Ombrosa Caluire.
CS - LOWER SECONDARY SAVOIE
Find out more about the programmes your child will have the possibility to follow at Ombrosa:
Send us an information request, and receive your application file: