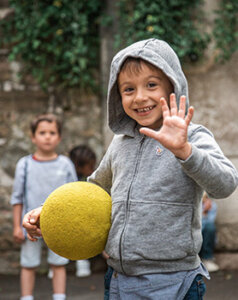 How do we integrate French-speaking students within our bilingual Nursery School?
The teaching offered at Ombrosa is a natural and effective way to reach bilingualism while validating the educational goals of the Nursery School.
French-speaking children quickly adapt to the anglophone life they are immersed into during class time, with no regards for the age at which they joined the school. The comprehension, and then the expression in a basic English, start to appear during the first year of attendance, and quickly develop.
The structured reference to the use of the French or English language depending on the place and person they speak with (school, home, parents, teachers, friends) allow children to build a dual language awareness.
Children will then be capable of fueling one or the other depending on the context, by commuting their way of thinking.
Presentation of Ombrosa bilingual Nursery School.
Learn more about the nearest Nursery School:
ML6 - Nursery Lyon 6MC - Nursery Lyon CaluireMS - Nursery Savoie
You wish to enrol your child in one of our bilingual Nursery Schools:
Find out more about the programmes your child will have the possibility to follow at Ombrosa: