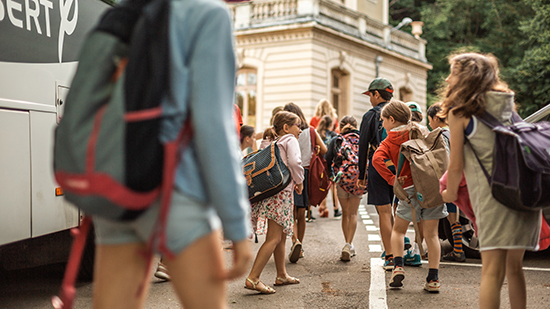 How do we integrate English-speaking students within our multilingual Lower Secondary School?
When they join Lower Secondary School, students are welcomed and guided towards the establishment of a new dynamic. They discover their new environment, different ways of working and interact. These new elements apprea in different forms such as workshops or experiments in our laboratories, and students receive support from specialised teachers.
Ombrosa Lower secondary school offers an opportunity to join a bilingual course within the French school system. In the 3è (G9/Y10) and 2nde class (G10/Y11), this leads to different sections in both French and international courses, with multiple combinations available.
The emphasis is laid on personal growth, academic level and the general dynamic. The learner profile of the International Baccalaureate constitutes a reference for the whole school community.
A specific teaching of the English language at the international level, both on linguistics and literature, is set up for English-speaking students. These are based on the British National Curriculum, and prepare students to the "English Language" and "English Literature" IGCSE exams.
In 6è and 5è classes, subjects such as history, geography, and part of our workshops are taught in English and based on bilingual documents.
Depending on their level of French, students can take part in the class of native French or join the French as a Foreign Language (FLE) workshop for as long as needed to acquire sufficient understanding and a practical command of the language.
Other subjects are taught in French, as part of the immersion process. First, the requirements are adjusted. If need be, students can be exempt or receive additional help during evaluations.
During the adjustment period, French learning and the integration in English are the utmost priorities. A coordinator encourages students and can adapt their course by replacing some subjects by FLE workshop classes.
Students also have the possibility to learn different languages, starting in 6è and/or in 5è.
The programme of club activities, both anglophone and francophone, also allows students to personalise their course and to meet with other students sharing the same passion.
Find out more about the programmes your child will have the possibility to follow at Ombrosa:
Find out more about the opportunities at Ombrosa Lower Secondary School:
Send us an information request, and receive your application file:
TSO private bus lines serving the Grand Lyon area and shuttle to The Nursery in Lyon 6e: