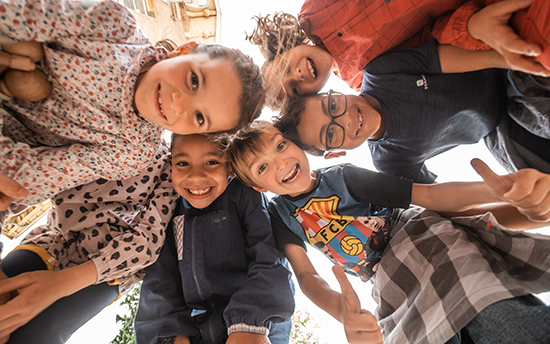 In addition to a great French representation, the school also welcomes a very active British community and no fewer than thirty nationalities. International profiles represent about 20% of our students, to which we can add the pen friends welcomed throughout the year (from Germany, Canada, Spain, Japan, the UK). 45% of the staff have an international background and 85% of them speak more than two languages.
This wide diversity of people and cultures finds its harmony within a common wish to build sincere and deep relationships, respectful of all and which richness results from all differences.
The dynamism of Ombrosa's life inside and outside of the classroom offers many opportunities to enjoy the French context but also to go way beyond its horizons.
Adapting themselves:
Whatever the objective, from arriving in Lyon to discovering other schools, countries and cultures, a special attention, optimal conditions and a real personal commitment are all essential. The stake is to be able to quickly earn enough confidence to keep on opening up within this new environment. The whole educational team daily integrates this particular data. Experienced teachers and coordinators specifically guide students in their adaptation phase, at school or abroad.
Constructing their own identity:
Affinity emerge from the contact between different cultures: discovery of a new basis for social interactions, of different educational cultures, of new ideas, of new tastes and enjoyments, birth of new friendships… This confrontation to difference also strengthen thoughts on our own identity. Who are we? What can we bring to others? How do they understand me within their personal reference system of values?
Creating bonds:
By making the quality of integration and of exchanges an utmost priority, the school multiplies chances for long-term relationships. Students thus have the opportunity to develop long-lasting relationships in different parts of the world. These privileged relationships which come to life before the beginning of higher education or working life, often appears to be irreplaceable within an international universe moving fast.
⇒ More on:
> Welcoming students and integrating them
> French as a Foreign Language
> Welcoming pen friends
> Schooling abroad