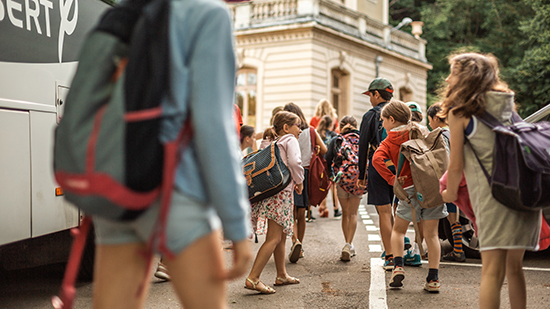 How do we integrate French-speaking students within our multilingual lower secondary school?
When they join Lower Secondary School, students are welcomed and guided towards the establishment of a new dynamic. They discover their new environment, different ways of working and interact. These new elements apprea in different forms such as workshops or experiments in our laboratories, and students receive support from specialised teachers.
The opportunities offered by the French academic programme: knowledge and skills form the foundations of our teachings (except for the international 3è class – G9/Y10). Students get ready to make their course choice at the end of the 3è class and sit the Diplôme National du Brevet exam or head towards Cambridge IGCSE exams within the international section. Through their choice of linguistic profile and club activities, they add a personal touch to their educational career.
The emphasis is laid on personal growth, academic level and the general dynamic. The learner profile of the International Baccalaureate constitutes a reference for the whole school community.
On the linguistic level: English beginners of the 6è class (G6/Y7) benefit from a dedicated and intensive English teaching with siw classes per week. It is recommended that they take part in the exchanges offered in English-peasking countries. An English development workshop is available to guide students who wish to upgrade their level.
Students who have already been initiated to English follow a language teaching organised by levels: international, bilingual or development/strenghtening.
For all students, a complementary period for languages is integrated withint the timetable from the 6è class. Depending on the initial choice of both students and families, that perio can be dedicated to German, Japanese, or extra classes of English.
In 6è and 5è classes, subjects such as history, geography and part of our workshops are taught in English and based on bilingual documents. However, a specific history class is also available in French for beginners of the 6è class.
In the 3è class, a complementary teaching of English literature is integrated to the international section, but is also available as an option for students of the French section.
Find out more about the programmes your child will have the possibility to follow at Ombrosa:
Find out more about the opportunities at Ombrosa Lower Secondary School:
Send us an information request, and receive your application file:
TSO private bus lines serving the Grand Lyon area and shuttle to The Nursery in Lyon 6e: