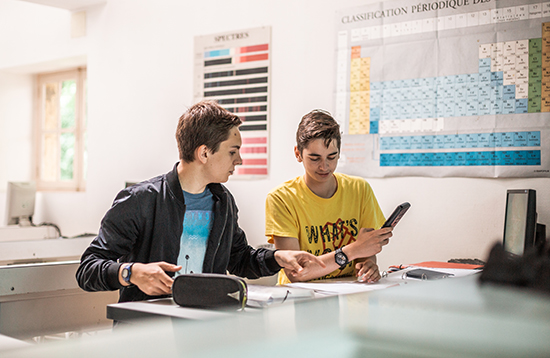 How do we integrate English-speaking students within our multilingual Upper Secondary School?
English-speaking students follow an adapted teaching to acquire or improve their command of the French language, to maintain their progress in English and ensure the validation of their schooling through renown national and international diplomas. From the 2nde class (G10/Y11), students have at their disposal a large range of possibilities to get integrated into upper secondary school life.
Join an intensive international class in 2nde to prepare and validate the IGCSE exams (seven subjects) in one year. If need be, French as a Foreign Language classes are available.

Join an international 2nde class that co-ordinates francophone and anglophone teachings. Students finish the preparation to IGCSE exams they initiated earlier in their course.

Join a francophone 2nde class maintaining the learning of English at a native level while taking part in some IGCSE preparatory classes (English, History).
From the Première class (G11/Y12), Ombrosa offers the International Baccalaureate with a bilingual approach and the General Baccalaureate.
A real motivation, work capacity and the ability to follow a secondary course of general education are all essential. An active and open personality will be necessary to commit to team projects such as the journalism workshop, or the Model United Nations club.
Find out more about the opportunities at Ombrosa Upper Secondary School:

Send us an information request, and receive your application file: