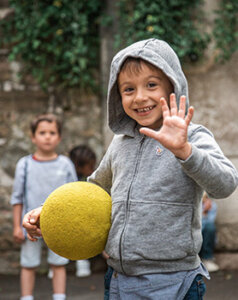 How do we integrate English-speaking students within our bilingual Nursery School?
English-speaking students find within our Nursery School a familiar linguistic environment. The daily life, the teachings, the interactions with teachers, everything is done in English. Our team of teachers, mostly from the UK and trained there, contribute to a reassuring and gratifying educational approach.
Thus, they can keep on progressing while benefiting from a close contact with the French language, especially when mixing with other students.
The learning of French will be progressively introduced into the daily life in English, and will develop naturally and deeply thanks to interactions with native French-speaking students.
The amazing educational flexibility inherent to the Nursery classes allow each and every student to develop their language skills at their own pace.
Bilingualism and the acquired knowledge will allow them to freely follow a billingual schooling integrated within the French system, or an anglophone curriculum, whether it is national or international.
Presentation of Ombrosa bilingual Nursery School.
Learn more about the nearest Nursery School:
ML6 - Nursery Lyon 6MC - Nursery Lyon CaluireMS - Nursery Savoie
You wish to enrol your child in one of our bilingual Nursery Schools:
Find out more about the programmes your child will have the possibility to follow at Ombrosa: