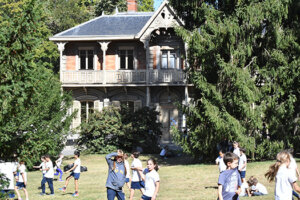 Several buildings within the park welcome 4 classes per level for all elementary pupils. The facilities allow teachers to enjoy and use a large range of areas and tools, whether inside or outside.
The educational activities punctuate the daily life of the school. A weekly alternation is established forFrench and English teachings. This system allows an in-depht work within an immersive environment with a project-based logic carefully coordinated throughout the school-year to respect the programmes dictated by the National Ministry of Education.
An regular or punctual intervention by specialists of different fields come to support and diversify the work conducted in class and the educational opportunities: judo, gymnastics, team sports, music, story-telling, sciences, nature…
Weekly extracurricular activities are offered between 4.00 and 5.30 p.m, or on Wednesday afternoons depending on the activity. These clubs are a way to discover or deepen a chosen activity.
A before and after-class supervision is available, along with a half-boarding service for lunch time.
How do we integrate new students at Ombrosa Elementary School?
Find out more about opportunities at Ombrosa Caluire Elementary School:
Find out more about the programmes your child will have the possibility to follow at Ombrosa:
Send us an information request, and receive your application file:
TSO private bus lines serving the Grand Lyon area and shuttle to The Nursery in Lyon 6e: