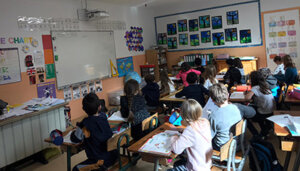 This educational unit composed of 5 classes welcoming elementary pupils has its own building, adjoining the Nursery School. Both French and English-speaking teachers work as a team and relieve each other to guide pupils with their learning programmes. The goal is to complete the programme of the National Ministry of Education while developing bilingualism and opening up to an international culture.
Classes are organised to follow an alternating process between French and English periods of study, thus stimulating the immersion and the in-depth study of each language.
A before and after-class supervision is available, along with a half-boarding service for lunch time.
Throughout their course in Elementary School, pupils have the opportunity to join immersive trips in the UK, offered by the school. They first leave in groups, and then experience a complete immersive trip, both in host families and in local schools.
Send us an information request, and receive your application file:
Find out more about the programmes your child will have the possibility to follow at Ombrosa: